How to Choose Grinding Wheels for Stainless Steel Polishing?
Release Date:
2023-07-19 11:24
Grinding wheels with excellent performance are widely used for cutting stainless steel, non-ferrous metals, ordinary steel, and refractory materials. These high-quality materials, coupled with exquisite craftsmanship, ensure high cutting efficiency and optimal cost-effectiveness for different materials.

When it comes to choosing a grinding wheel for stainless steel polishing, several factors can be compared to make an informed decision. Let's explore these aspects in detail.

1. Particle Size Range:

Grinding wheels are typically classified into two categories based on the size of the abrasive particles: grits and micro powders. Grits range from 12# to 280#, while micro powders are denoted as W40 to W0.5 (or even finer).

2. Particle Size Specification:

XX# represents the mesh size, indicating the particle size of the abrasive that can pass through the corresponding sieve. On the other hand, WXX denotes the measurement size, which represents the average particle size when the abrasive is too small to be measured by a specific sieve.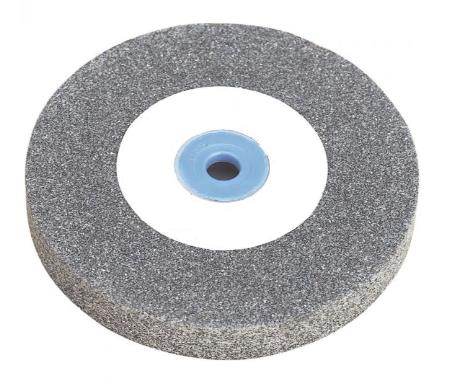 3. Particle Size Gradation:

For particle sizes above 280#, the gradation can be represented by XXXX# to XXX# to indicate the particle size. For example, W40 to W10 is similar to 320# to 800#, and W7 to W2.5 is comparable to 1000 to 3000#. In general, regular grinding wheels can achieve a W14 level (around 600#).

4. Hardness Selection:

Depending on different grinding requirements, the hardness of the grinding wheel should be considered. Softer wheels, such as those in the ZR range, are preferable for coarse grinding, while harder wheels like Z or ZY grades are suitable for finer grinding.

5. Material-Specific Selection:

Different materials may require specific types of grinding wheels. For stainless steel polishing, white corundum is a suitable choice. If higher grinding efficiency is desired, green silicon carbide is even better.

Choosing the right grinding wheel for stainless steel polishing is essential for achieving optimal results. Factors such as particle size range, specification, gradation, hardness, and material suitability should all be considered. Understanding these aspects enables professionals to select the most appropriate grinding wheel, ensuring efficient and effective polishing processes for stainless steel surfaces. By making informed decisions, operators can enhance productivity, achieve desired finishes, and ensure the longevity of their grinding wheels, resulting in cost-effective and high-quality stainless steel polishing operations.