Hook and Loop Velcro Sanding Pad
Hardened composite body material - Excellent durability and balance
Hardened composite body material - Excellent durability and balance.
| | |
| --- | --- |
| Max RPM | 12200rpm |
| Product Weight | 0.101kg |
| Material - Secondary Construction | Steel alloy |
| Method of Construction | Melted, molded, and stuck |
| Type of Thread | M14 x 2 |

Firm backing pad for use with hook and loop polishing sponges, bonnets and sanding discs. Compatible with angle grinders and sander polishers. Max 12,200rpm.
Easy to Attach and Remove: One of the primary features of velcro sanding pads is that they are easy to attach and remove. The hook-and-loop system allows for quick and easy swapping of sandpaper, making it possible to switch between grits without having to replace the entire pad. The Velcro backing also ensures that the sandpaper stays firmly in place, reducing the risk of slippage during use.

Durability: Velcro sanding pads are designed to be durable and long-lasting. They are constructed from high-quality materials that can withstand heavy use and are resistant to wear and tear. The backing is typically made from durable plastic, while the Velcro is made from a strong and durable material that can withstand repeated use.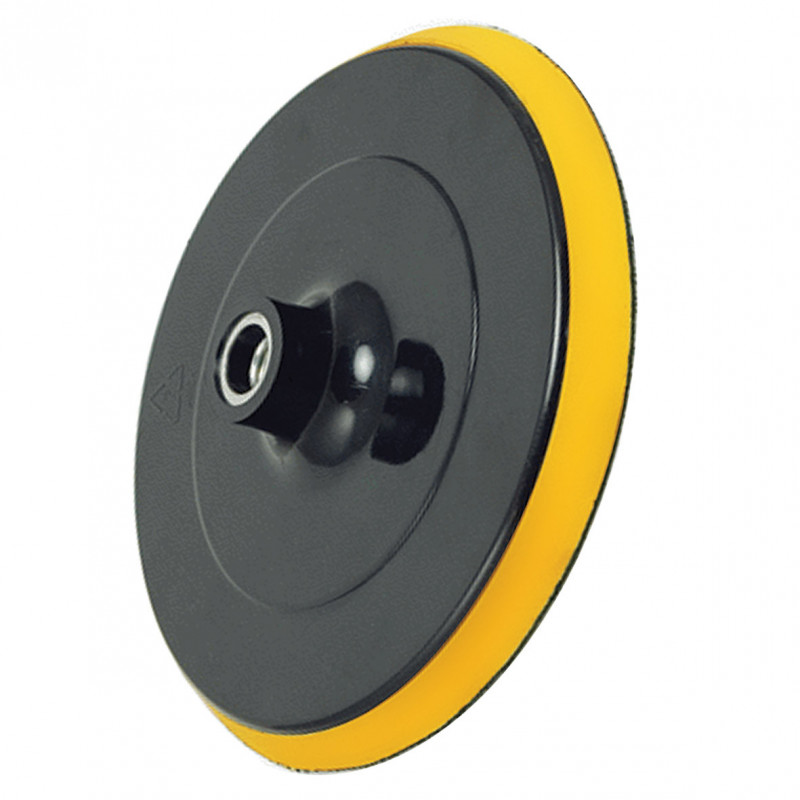 Versatility: Velcro sanding pads are incredibly versatile and can be used for a wide range of applications. They are compatible with a variety of sandpaper grits, allowing you to tackle both rough and fine sanding tasks. Velcro sanding pads can also be used on a variety of surfaces, including wood, metal, plastic, and more.

Comfortable Grip: Velcro sanding pads feature ergonomic grips that provide a comfortable and secure grip during use. This can reduce fatigue and ensure that you can sand for extended periods without experiencing discomfort.

Compatibility: Velcro sanding pads are compatible with a wide range of sanders, including orbital sanders and random orbit sanders. They come in a variety of sizes to fit different sanders, ensuring that you can find the right size for your tool.
Product Specification:
Construction

Material

Diameter

Max

R.P.M

Melted, molded and stuck

Steel alloy

Thread type M14 x 2

4"(100mm)

12200

4.5"(112.5mm)

5"(125mm)

6"(150mm)

7"(180mm)
Enquiry
Thank you for your enquiry. We will reply as soon as possible.